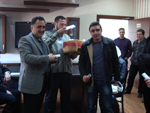 Students Delegation visit to SyrianSoft witnessed wide press coverage by a variety of Arabic and Syrian Sites, this – in turn –shed more light on the event, it also asserted the major role played by SyrianSoft in this field, and opened the door wide for greater cooperation in this field.
"Aliqtisadi" online website mentioned that the activity targeted students from Information Technology, Business Administration and Economy Facilities, and it included field trip to the different facilities and departments of SyrianSoft company. It also involved lectures about methods of work and team spirit, and focused on the relevance between academic science and the market.
"Jouhina Portal News" and "masaader" websites indicated that this event was complement to other previous activities in the same field, some of which was referred to by Technical Manager Eng. Bader Eddeen Bailoni: "SyrianSoft made earlier agreement with the National Union of Syrian Students for training the top ten graduates from Information Technology College"
Other sites – such as "Dam Press" & "Dam News" – reported the interest of the parties benefiting from training in cooperating with SyrianSoft, and declared their confidence in SyrianSoft. They also reported the willingness of these parties in future cooperation and intentions to propose joint plans in this area.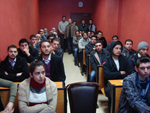 This was confirmed by the visit coordinator SyrianSoft Eng. Ahmad Abu Hasna as reported by "Alwatanvoice": "SyrianSoft receives students according to its Social Care Agenda, which aims to provide awareness and training services to the interested students on a regular basis".
SyrianSoft, at its early start, stressed in its vision that it's a part of this community and conveyed in its mission the pursuit to raise social life and provide technical facilities and services to achieve prosperity. Therefore, SyrianSoft considers that supporting students and having them involved in social service fields will eventually fulfill its goals.
Following are links to some of the articles related to this event: